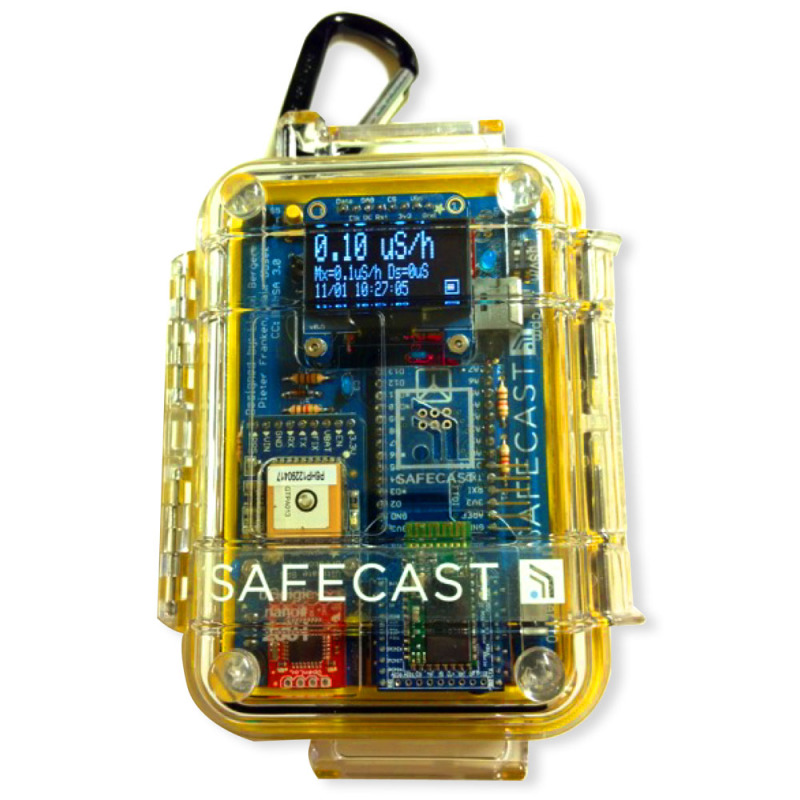 bGeigie Nano Kit
We have been proud to support this great project and encourage people to
Product Description
bGeigie Nano Kit
If you know how to solder (or want to spent 10 minutes learning how) you can build the Nano Kit in an evening, and be Safecasting the next day.  The bGeigie Nano can take individual spot readings, and if attached to your car will collect geotagged radiation data that can be uploaded to:
Safecast via our API upload page
$65.00 of each bGeigie Nano Kit order is donated to Safecast
Specifications
Product Manual: Manual

Three Systems in One:

bGeigie, xGeigie and iGeigie

bGeigie mode – mobile radiation sensor with display indicator in CPM and µSv/hr, number of satellites locked, height (m), distance traversed (km), total duration of measurement (h:m) and time stamp (dd:hh:mm:ss)

xGeigie mode – geiger counter mode (no logging) with display indicator for µSv/hr dose-rate (Cs-137), max dose-rate, dosimeter, Bq/m2 display (Cs-137), time stamp and Alarm LED

iGeigie output – iPhone compatible output for Safecast iOS app. iPhone app shows dose rate and can upload data realtime to Safecast API.

Sensor: LND 7317, 2" pancake GM tube with IMI iRover HV supply; capable of measuring Alpha, Beta and Gamma radiation

Modular design – main unit can be taken out of case to use as surface contamination survey meter

High quality GPS receiver with external booster antenna connector

Wireless option – bluetooth, 802.15.4 or Wifi supported through Xbee socket – send data wirelessly to bGeigie Ninja or smartphone (Experimental; wireless components not included in kit)

Blue Indicator LED for every nuclide detected (with cool afterglow)

Red Indicator LED for "recording" (bGeigie mode) or "alarm" (xGeigie mode) indicators

Orange indicator LED for charge status

Battery status indicator on OLED display, with low Battery alarm

Function button (user assignable)

Buzzer (can be switched off)

2000 mAh battery for approx. 40-hour nonstop operation in bGeigie mode. USB chargeable

Memory: 2Gb SD micro card (included)

Hot switch between bGeigie and xGeigie mode (in xGeigie mode recording is paused)

Many parameters configurable through config file on SD card (e.g. user name, conversion factor for µSv/hr and Bq/m2, time interval, etc)

OLED display: 128×64 high contrast, two OLED display sizes supported

Watertight, shock resistant Pelican 1010 micro case in Black.

Carry strap and hook attachment (for car, cycling, walking, airplane, etc)

Fits into "Topeak" Bicycle top bar case for US on road bikes (not included)

Dual CPU: Atmel, Arduino. Open-source software
Warranty
No Warranty is available however, there is a community for people with Safecast devices which can be very helpful for troubleshooting and Q&A – https://groups.google.com/d/forum/safecast-devices
Also be sure to grab the "safecast" app from the iTunes store, as the Nano interfaces well with it.
MISSING A PART?
There are a lot of little parts that look the same in this kit, and sometimes things get mixed up. We're sorry! If it turns out your kit is missing something, email us at contact (at) medcom.com
and tell us what's going on and we'll figure out a solution for you.