4 Watt Solar Charger for Onyx – Charcoal/Orange
Product Description
Compact and powerful, the Amp Solar Device Charger fits easily in any bag for power on the go. With four times the power and twice the battery storage of most solar chargers in the market, your Device need never be flat again.
When fully-charged, this will provide five or more full charges for your IMI Onyx.
Currently available only in Orange Color shown in large image above.
Shipping Note: This item will likely be shipped separately from any instrument orders, especially for expedited orders.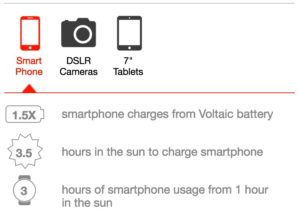 Features
Folds for compact storage
Fabric made from recycled PET (soda bottles) is waterproof, lightweight and UV resistant
Convenient mesh pocket to store charging cables and adapters
Size and Weight
6.5″ high x 5.5″wide x 1.5″ deep (16.5cm high x 14.5cm wide x 4cm deep)
1.1 lbs (480 g) including battery and solar panels
Solar Panels
4.4 Watts at 6 or 12 Volts Panels Output (selectable based on charging applications)
Waterproof and UV resistant panels with urethane coating
V15 USB Battery
Capacity: 4,000mAh, 15 Watt Hours
Output: 5V/1A USB
Input: 5-6V, 1A
Battery Type: Li-Polymer
Protection: Short Circuit, Over Charge, Over Discharge, Over Current, Over Temperature
Battery Functions:
Power Button
Charge Indicator
USB Output to Charge Devices
USB Input to Charge Battery
Includes:

Amp +
V15 USB Battery
MicroUSB Cable – connects battery to devices that charge from MicroUSB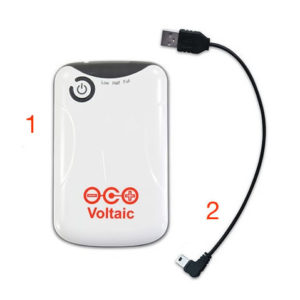 IMI Onyx Geiger Counter:
Charges Onyx via standard micro-usb port
Smartphones:
Charges all USB Devices including all Apple, Android and Blackberry smartphones.
Tablets:
Charges all tablets that are powered by USB including Apple iPads and Samsung Tablets. Will not charge tablets that charge at 12 or 16 Volts.
Digital Cameras:
Charges both DSLRs and cameras that charge from USB. For DSLRs, optional camera charger cradle that matches your camera battery is required. (we can direct you)
You may also like…